Become an Origami Spirit Member
— click one —
What is Origamigos?
Origamigos is the Origami Spirit membership. Paper folders at any level can join to learn, connect, and share their knowledge and creativity.
Who is Origamigos for? It's for anyone who…
Wants to expand their appreciation for origami as an expressive art form,
Learn new origami models,
Be exposed to fresh perspectives of origami as an, educational, artistic, and intellectual practice,
Cultivate their potential for creative self-expression.
Share their knowledge and experience with others.
Be part of a vibrant and supportive community.
Be inspired!
Enter an Inspirational Origami Experience: What you will receive.
Origami Path to Mastery: a self-guided assessment
A self-guided workshop in seven lessons.
Determine where you are on your unique path to origami mastery.
Design your own personalized approach to a mindful origami practice.
Origami Tutorials
One every month.
These exclusive tutorials are only available within the membership.
The initial teaching session is presented live, on Zoom.
Folding sessions are recorded and made available for later viewing.
Tutorials are accompanied by a post that includes related models and other suggestions based on your self-identified level of origami proficiency.
Members have access to all archived tutorials
Five recent and popular tutorials: Springtime Candy Dish; Nesting Robin, Blossom Crane, Mona Lisa's Smile, The Gliding Ghost – BOO!
Talk & Tidbits: A group meeting
Presented live once a month
The first half of the meeting is a review of work shared by members in the previous month
This first half is recorded and made available for later viewing
The second half of the meeting is open for discussion and individual presentation.
The second half of the meeting is not recorded.
Special Recognition! Up to three people per month receive the ORIGAMIGOS CHOICE RIBBON. Awarded to members that show particular creativity and playfulness using origami, sharing origami, or creating new models.
Treats & Treasures: A fun surprise!
Printable paper patterns.
An extra origami tutorial.
An interview.
Any fun origami-related item.
Members have access to archived material.
"Leyla Torres is a wonderful teacher and the models are beautiful. Leyla always includes advice and suggestions that make the folding relaxing. She encourages playfulness and creativity. I enjoy looking at the posts in the Facebook group, especially when I have not had time to make the models. I look forward to doing more." –Jeanine M. (New York, USA)
Interview With An Expert
A monthly interview with people who have a unique relationship to origami
Presented live.
Interviews are recorded and available for later viewing.
Members have access to past interviews
"I love the interviews with expert folders. Leyla is able to get a great deal of rich insight from them about their creative method and achievement." –Donna W. (New York, USA)
Additional Resources
Access to a members-only private Facebook resource page.
A monthly calendar of events.
THREE SPECIAL BONUSES
BONUS 1: Origami Basics Mini-Course
For new or re-engaged folders.
How to select paper.
Introduction to symbols used in origami diagrams.
How to fold classic origami bases.
How to read printed origami diagrams in books.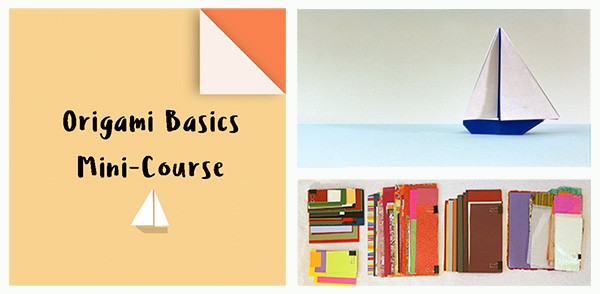 BONUS 2: MINDFULNESS AND CREATIVITY WITH ORIGAMI
Mindfulness and Creativity with Origami.
An inner creativity and visualization journey.
Encouraging a beginner's mind and playful spirit.
An exploration of our natural inventiveness and imagination.
Creating a symbolic souvenir of a personal voyage.
BONUS 3 – THE JOY OF ORIGAMI • FREE to Origamigos members ($297 to non-members)
THE JOY OF ORIGAMI DESIGN COURSE, is a self-paced five-module course, we will unlock the doors of your creative mind and stride into an inspirational Origami Experience.
You will fold some delightful models with clear directions given for exploring how these models grew from initial inspiration to finished pieces.
By looking carefully at the creative process you will discover how to use your growing understanding of a creator's conceptual tools as a springboard to create new origami figures that you can share and call your own.
You will make step-by-step progress and emerge from this course with strategies to create origami models and with a sense of empowerment with your own creative abilities so that you can take your love of origami to the level of origami creation you have hoped for.
This course will cover a range of topics of interest to paper folders who want to explore ways to grow their creative practice through origami.
---
Here is what members are saying about ORIGAMIGOS …
FREQUENTLY ASKED QUESTIONS
Is ORIGAMIGOS a course?
Origamigos is not a course. Origamigos is a membership that delivers live presentations, tutorials, interviews, and more, every month. Courses are available within the membership as part of core content.
Is ORIGAMIGOS a membership for children?
Origamigos is a membership that is best suited to adults. Children 13 and older are welcome but parental involvement and monitoring are strongly encouraged for optimal benefit.
What do I pay after a two-week trial period offer?
If you choose a monthly membership you will be charged $12.99 per month.
If you choose an annual membership you will be charged $118
Cancel any time.
What are the cancellation and refund policies?
Payments are billed on a recurring monthly or yearly basis depending on the plan chosen.
The price of the membership level signed up will remain in effect for as long as you remain a member.
A membership may be canceled at any time.
If you wish to cancel you must contact us before your next bill date.
Refunds are not available for payments that have already been processed.
Here are the Origamigos Terms of Service and Privacy Policy

What if I have a question?
About Leyla Torres
Leyla is a visual artist and origami educator who has been sharing the art of paper folding with people of all backgrounds for over 25 years. In her studio practice, she explores creativity through writing, watercolor painting, and origami. One of her passions is helping people nurture their creative confidence and foster a sense of inner calm by sharing activities that invite them to explore their imagination with minimum material investment. People of all ages have enjoyed her presentations and workshops at international origami conventions, libraries, schools, and businesses in The United States, Europe, and South America. Since 2007, Leyla has been the host of the well-loved Origami Spirit website and Youtube channel. She was born in Colombia, South America, and presently resides in the lovely state of Vermont, USA with her husband and teammate, John Sutton, and their cat Coco.
---